Students from University of Engineering and Technology, Panjab Univerity Chandigarh showcased their models in an exhibition by Design and Innovation Centre, UIET in Law Auditorium on Saturday. The youth of the city is coming up with new contraptions to ease our lives, and here we take a look at some who're poised to be harbingers of a new era.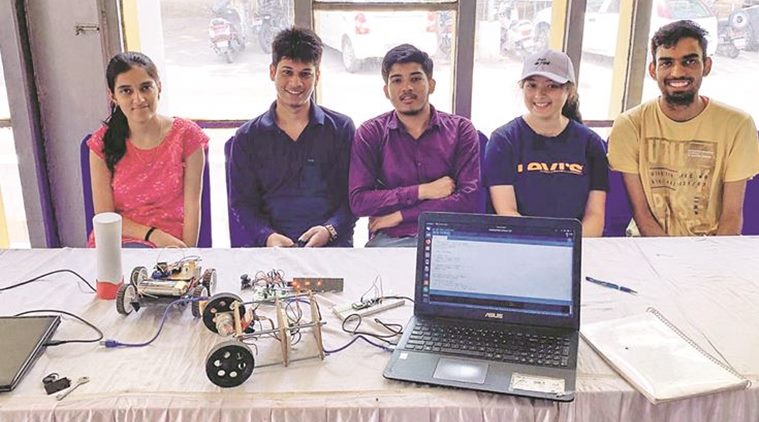 Divyadeep Singh from Mechanical Engineering has revolutionized the ubiquitous wind turbine by creating a prototype of a vertical axis wind turbine for the purpose of energy generation. The second titration involves another prototype which can be installed on top of the model and can make a hybrid configuration.This is a five-times scaled down model. The actual model will be capable of producing 1 kW of power at wind speeds of 5m/s. The vertical turbines can produce power independent of wind direction – unlike horizontal ones that have to be facing particular direction depending on the wind.
Manik Dalal, Abhinav, Arnav Sharma from Electrical and Electronics Engineering (EEE) got in the nitty-gritty of electrical setups in homes and have made a smart switch. This switch can connect to a Bluetooth device and can be operated from a mobile phone.
With his PC-controlled automated car, Vijay Kumar from EEE has ambitious plans for his project. He has used the programming language Python to integrate a PC with a micro-controller present in the car. "Once a piece of code runs, external manipulation is not possible. But we bypass this problem by using Python; the car can be controlled with the help of the computer.
Pranav Kumar, Charvi Mendiratta, Ankur Bhatia, and Dhawal Sharda from Electronics and Communication Engineering have found a way to make warehousing more efficient by automating the entire process.
Prayag Sharma, Kapil Kumar, Kishitiz Goyal from EEE and Computer Science Engineering are proud creators of two fully autonomous drones that are GPS controlled and require no manual interference.
Perhaps the flashiest project of the day is attributed to Sahil Sharma from EEE. His invention is a sound-reactive RGB LED lamp. The lamp comes with a microphone and can sense external disturbances. It glows in accordance with the intensity of the sound and also has the ability to change colors using a phone.